That is the name of this year's display at Macy's 8th floor (formerly Marshall Fields, formerly Daytons). It was the same display as last year and looking at the yearly schedule this is the first year they have done the same display two years in a row.

And c'mon...it's not like I don't know what it's like...for an elf...being married to "Buddy the elf's separated at birth" brother...ahem...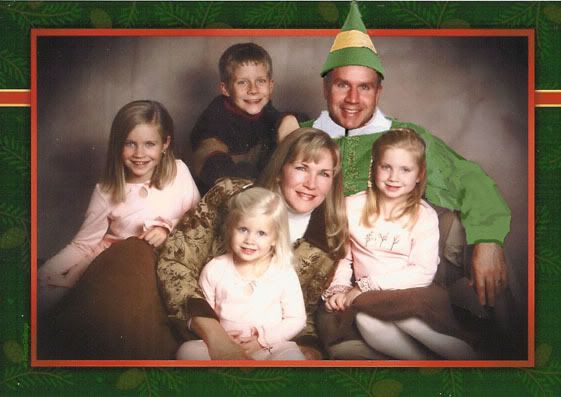 And yes, the picture is a couple years old (and No, Beth, I couldn't hate you for providing me with so much ammunition. *smooch*)

So...figure the kids all being about 4 years older (not me though...I don't age) and taking them to a mechanical display of "A Day in the Life of an Elf". Better yet, let me show you the pictures:

Here are my girls:

Then of course, there's me and my husband (he came as his alter ego here...no sense in dealing with the mob of autograph seekers):


And at the end of the production, were pictures with Santa. Sadly, my older two chose to forgo the experience. But the younger two chose to partake in a little brown nosing:

Just to cover their bases dontchaknow.

You'll note the absence of my son. Oh, he was there. Lovin' every second of it...


You really can't tell because of the distance, but he had a look of pure unadulterated JOY on his face. He tried to keep it from spreading to his siblings by holding himself aloof...but we could read it. No...really.

A good day. Had we gone later in the day, we may have stayed for the Hollidazzle parade. But as it was, we had fun...at a day in the life...